Dear Norrathian Lore Seekers,

Some other duties have kept me from those pertaining to Norrath. Please excuse the absence and enjoy the latest additions to the Norrathian wing of the Athenaeum.

Your Devoted Lore Collector,
Keeper Rapha

Quests
Digging in the Dirt
Halas Prelude Event
Velious Prelude Event Part I

Website
Zone Previews From 9/2008 - 5/2010
Domino 4/2010 (Dev Interview)

Tomes
Symbols of Ages Past
Zebuxoruk's Book of Prophecies With Comments by S.V.
The Dogs of War
Tactician Thuzal
A Journal of a Disciple of Marr
An Agenda to Carry Out
The Valorous Tragedy of the Frogloks of Guk
Tomes, Tomes, and More Tomes
Dear Fellow Lore Seekers~

I wanted to send out a list of the most recent additions to the Norrathian halls of tomes. Thanks to the efforts of visitors from Norrath, our library is nearing completion. Please enjoy reading these latest volumes!

~Keeper Rapha

On the Origins of the Phylactery
A Bound Collection of Research Notes
A Pirate's Tale
Bronsin
Watcher of Mauls Theriig
The Words of Freedom
The Varsoon Collection, Volume 5 - The War of Plagues
Handbook of Tunare's Pages
Handbook of the Academy of Logistics
Hrath's Journal
The Archtome Haoaera
The Missing Pages of the Sword Heist Journal - Rebound
Paying Homage to the Past
Assisstant Researcher's Notes, Vol.3, The High Council of Erudin

(New Sentinel's Fate Category)
The History of the Hua Mein: Part 1
The Fall of Erudin: Part 1
The Fall of Erudin: Part 2
With Odus being a topic of many conversation taking place in the Norrathian halls, I decided to do some more research on the events that took place on this continent of High Men. As I was thumbing through one of the ancient tomes, an etching of an even older tome caught my eye. I could tell the writing was that of the Erudites but much of the text was too worn to read or missing altogether. I thought others who are delving into this particular part of Norrathian lore might find my discovery interesting and wanted to share it with you.

~Keeper Rapha


Please note the small updates to several sections of our library. We hope you enjoy the reading!

-Keeper Rapha

Tomes
Naggresh da Hero

Quests
Nights of the Dead '09
Return of the Light
In Honor and Service
Attack on the Crown (Qeynos and Freeport)
Images of a Sundered Land
The days are full of excitement and mystery, as recently the Athenaeum was visited by a familiar Ayr'Dal rogue clad in dark armor. He brought with him tales of the Ulteran Spires and how they've hummed to life creating a network of travel across Norrath, and a tale of betrayal as the Dethknell citadel has fallen and Freeport riots in chaos.
He brought with him a tome, with strange etchings of Erudite origin, he said little of the origin of this tome or the etchings within other then it was given to him by a Teir'Dal with a habit of loving all things Dark elven.
He had little time to stay and left almost as quick as he appeared, leaving behind the etchings and drawings of this place he had traveled to. One would think we'd recognize the city of Erudite Heretics more easily, but the sky wasn't often where we pictured Paineel, floating in Norrath's clouds. So strange were these etchings and his tales that the keepers of the Athenaeum will need to study them more.
My Encounter With a Dwarf
Time does not pass here like it does in the worlds we study, but the passing of those times is noted by us. Though the purpose is the same, the faces of our patrons change. Patrons move on through the cycle of life in their world but there is also someone new to take up their place in the quest for knowledge. We have seen several storytellers and historians from Norrath pass from time and visit us no longer, but a new face has emerged to begin his trek through our corridors to teach us what he knows of the events that unfold in the lands of Norrath. My first encounter with this character was not like anyone I had met before. Yes, I have met many of his stout kind before but there was something charmingly different about this robust man. I heard him before I ever saw him. He was (much too) loudly telling tales of the lands of Kunark to our guests. With a large ale in one hand and a twinkle in his eye, he gave a knightly bow when catching my eye. With a prayer he would not splash his ale upon our treasures as he gestured widely with his hands as most dwarves do when telling a tale, I asked him if he might join me for a chat. Once promising his listeners to return to finish, he agreed to meet and followed me to more comfortable seating within the plush settings reserved for our more honored guests. The fine dwarf introduced himself as Cronyn and thus began my encounter with a dwarf. I have transcribed some of the conversation and hope you enjoy getting to know this teller of tales as much as I have.

1) Some of our patrons at the Athenaeum are just now becoming familiar with your name, Cronyn. Please tell us a little bit about yourself; what would you really like the Lore Seekers to know about you?

Aye, sure thing! I've long be fascinated with the history of Norrath, since my great uncle, who lived in the Age of Turmoil, spun stories of his adventures to our family. Those stories have been passed down to me, and it started an interest with all of the history of Norrath, which I have found is deep and full of even more secrets than I could have ever imagined. I hope to tell some of these tales to others, so that they too can experience the wonder of Norrath's past, present, and it's future, and maybe get a sense of how incredible of a place this really is.



2) We've been told that you have become the keeper of the infamous Dusty Old Tome of Norrath. With the Tome changing hands, will the course of Norrath's Destiny now shift, or do the writings in the Tome still guide Norrath's path?

I should hope that the destiny and stories of Norrath remain true to what has been written within the Dusty Tome of Norrath, and I certainly use those past writings to help tell the new tales of our world. I feel it is important to tell new stories, certainly, but also provide much of the true history of Norrath that many adventurers have come to know and love through their journeys.



3) Are there others working closely with you to study the Tome and help shape the world through its lore?

Aye! Norrath's history is largely a collaborative effort, with other storytellers contributing and building on the lore of the world as well. It is simply my duty to ensure that these pieces fit together when presented to the adventurers of Norrath. Many of the best tales of Norrath come not from me, but from working together with others to create the stories we tell.



4) Who are some of your favorite characters and what are some of your favorite stories in Norrath's History?

I am greatly fascinated with the history of Kunark. The rich history there is so deep and involved, with interwoven stories of family and political intrigue, plus the impact that Kunark's history had on the rest of Norrath - it truly is fascinating.



5) There are some new places the Norrathians will be exploring soon, The Shard of Love and Miragul's Planar Shard. What are some mysteries that will be learned about from these areas?

Ah, now that would be telling. The good news is that those areas have recently been discovered by adventurers, so hopefully they are now beginning to discover what secrets are held there.



6) Are there any lore teasers (past or present) that you would like to share with us?

I do! However, rather than just tell them here, I am working now on making more hints along these lines within Norrath itself, so that adventurers who are interested in the lore can find these tidbits as they journey through the world. I want to tell more pieces of the lore, and hope adventurers enjoy what it is I can provide them.



7) Oh and one more thing. We deal with many different realms and dimensions here in our world. There is a creature in yours that appears to resemble a creature in another realm as well. One of our dearest visitors wants to know if there is a connection between the two. Is Norrath's Behemoth the same as Earth's Goszilla? ;)

Ah, I have heard that name before myself, and it sends shivers down my spine! I actually would like to touch on the existence of the Behemoths again someday, should the path of Norrath's history take us there. I feel like the lore and stories of these gigantic creatures is something I would very, very much enjoy doing. ;-)
September 25, 2009 - 8:54 AM by
Rapha
Greetings to all Norrathian Scholars!

We have made quite a few additions lately that I thought you would want to be made aware. We have been working with several citizens of Norrath who frequent our library for studies. Please feel free to meander through the library and find our newest section of Epic Tales which includes quite a few tomes and notes received during an adventurer's epic quest for a weapon of great reknown.

Tomes
History of the Fae (finished missing pages)
From Daughter to Father
Assistant Researcher's Notes, Vol. 1. Halls of Erudin
Assistant Researcher's Notes, Vol. 2. The High Council of Erudin
The Journal of Yasva V'Alear
Xass's Notebook
History of the Hand
The Tale of Alexander Simond
The Tragic Tale of Slezaf
The Journal of Samantha Rageshree
The Journal of Ubdub of the Reet
The Maiden of the Masks
A Dilapitated Journal
Royal Scroll
well-worn log book
The Archives of Sebilis
The Forbidden Pages

Sincerly,
Keeper Rapha
Rapha quietly enters the Norrathian wing and begins to set up a simple display. The display consists of a simple pedestal draped in a deep purple cloth made of the finest velvet. In the background is a single lamp shining brightly on the items Rapha places on the pedestal. The two items appear to be fragments of a larger item. The light shines on them as Rapha steps away to write a memo..

To: All Students of Norrathian Lore
From: Keeper Rapha

Beings from many different realms of various worlds come to visit our vast library. On the rarest of occasions, one of those visitors will bring us an artifact of great value from their world. One such visitor came to us from the Norrathian realms and brought us a fragment of a tablet from their ages past. We have the extreme honor of exhibiting these fragments for you to study. We hope you enjoy the challenge this piece of lore brings to us!

~ The Athenaeum Keepers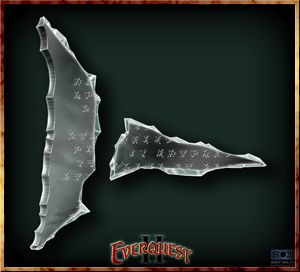 To: My Fellow Norrathian Lore Scholars
From: Keeper Rapha

I wanted to make you aware of some recent additions to our library. We have come across some more documents pertaining to the world of Norrath. Please seek these out and enjoy.

Dialogue:
Obelisk of Ahkzul
The Book of Sunder

Tomes:
The Cleft Dweller
Miragul's Earliest Journal
A History of Veksar
Special edit on Ardathium Vol. I-VI

Website:
Finished The Shadow Odyssey Tales
Patrons~

Many adventurers of varying realms find their way to the great halls of the Athenaeum. One such trodder on the lands of Norrath came to us with a tale of a grand adventure. Here are the words of Rezikai, a seeker of lore, and his quest for knowledge that took him to the lands of the dragons.

~Keeper Rapha

A Rogue's Tale
as told by Rezikai on a recent visit to the Athenaeum

My tale begins in Neriak, in the shadows of the Maiden's Fancy. As I sat in observation of the babble around me, I began to hear whisperings of a great mystery found in the recently rediscovered lands of the iksar and their once ancient Shissar masters. There were grave words such as "doomsday" and "destruction" as well as "Age's End" being whispered amoung only the most skilled adventure seekers. Though they tried to keep their tales in secret, my keen hearing heard every word.

I became greatly intrigued by the stories I heard and began frequenting other taverns and cities in hopes of gaining more knowledge about the lands of Kunark and the ancient secrets they held. From the taverns of Gorowyn I heard tales from adventuring Sarnak about a stone calendar of sorts found in one of their ancient cities of Chelsith.

In the light-hearted pub of Kelethin, I heard the travelers tell of a chamber where this "Chelsith Stone" was kept by the Shissar. They told of a great circle that was surrounded by smaller circles a short ways out from the center. As someone would approach one of these smaller circles, a rune looking to possibly be of planar origin would begin to glow and fade away as the adventurer would move away.

In the establishments of Qeynos I heard stories of a symbol similar to that of the one found in Chelsith yet with a twist that peakedmy interest. Two brave knights of Marr were telling about their decade long quest to find the planar swords of Soulfire and the Qeynos Claymore. Each man was given a replica of the swords for their dedication to the human city. However this was not the greatest part of their tale. These men had recently returned from a quest that took them deep into the Void to the Palace of the Ancient One, the Creator of Undeath Anashti Sul. In this palace the found two statues they had come across in previous journies. They were Maidens of Theer, and as each man approached one, they felt and heard a small humming vibration at their sides. Just as they figured out the strange sound was coming from each of their swords, an image appeared all around them. This image was not unlike the Chelsith Stone but was more complete. Though they couldn't explain why, the two men were convinced the symbols were coming out of the swords thmselves.

All these tales were of great interest to me. They all seemed like pieces of a puzzle needed to be put together to solve an ancient riddle of great importance. The most interesting tale I heard came from a robust dwarf I met in the Seafarer's Roost on the east end of Freeport. As a lover of a good brew from any psrt of Norrath (and beyond for that matter), he had noticed me in some of the other establishments and picked up on my interest in the tales of ancient planar mystery. He called me over and said he knew of something that may help me on my quest. He told me about his latest adventure into the heart of the dragons.

He told me of a great room the dragons call The Athenaeum of Scale. In this massive room were hanging great tablets of stone. There were sixteen of these tablets, or monoliths, arranged in a great circle and upon each one were twenty-eight symbols of unknown origin. On the floor was a circle containing sixteen more symbols, and each seemed to coorespond with one of the massive monoliths. As he was studying the symbols on the floor, the old dwarf heard a faint humming noise. He looked up and saw runes glowing on four of the monoliths. he remembered seeing these runes in other places that his adventuring had taken him.

The first of these runes looked like two bones crossing each other to form an "X" which is known to be associated with the massacre of the Shissar by Greenmist. With three monoliths inbetween came the second of these glowing runed tablets. This was s piral rune he had also come across in the throne room in Old Felwithe and knew to be called the Rune of Sunder which was associated with the destruction of our grand moon Luclin. The last two symbols he had seen before but didn't know any more details then whee they could be found. The third rune was a crescent shape atop a triangle. Though he had seen this symbol and variences of it all over Odus, he didn't believe this to be the origin of the symbol. When describing the fourth and final glowing rune, the old dwarf had a slight far off look in his eye. The symbol was that of one found in many places that his beloved Rallos Zek was worshipped.

I thanked the dwarf warrior for his information and began to take my leave. The dwarf grabbed my arm and held me with his gaze. He said the most important part of the story had not been shared yet. The stones had begun to invade his dreams at night. In them he is once again standing in the chamber at the center of the circled monoliths. Every time, just before he awakes in a frenzied sweat, he hears a deep voice call the name of "Theer." With the words, "Look to the Ring of Scale for the Monoliths of Theer," the dwarf dismissed me as he once again savered his ale.